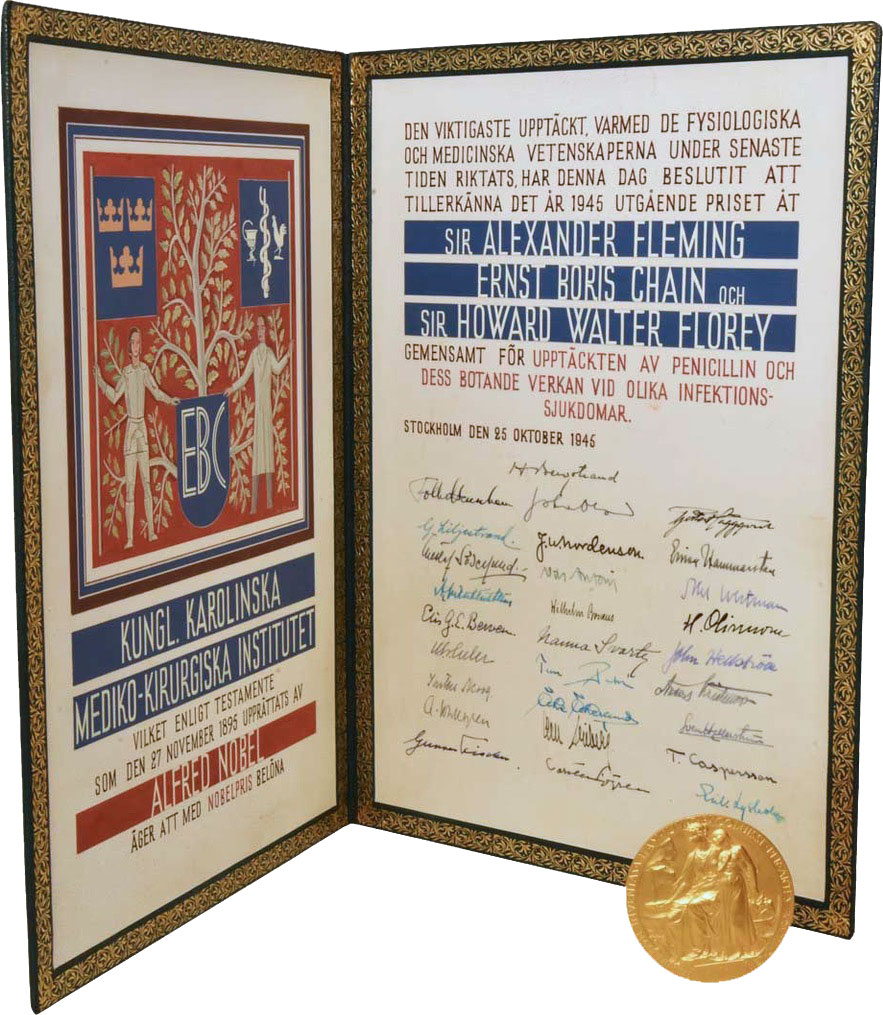 The Nobel Prize in Physiology or Medicine
The Brief
A fter Alexander Fleming's 1928 discovery that mould inhibited the growth of bacteria, it was thought that the substance, which he named penicillin, could be used to treat bacterial infections. However, it proved to be unstable and difficult to produce in pure form. A German Jewish scientist who fled Nazi Germany in 1933, Ernst Boris Chain, together with Howard Florey succeeded in systematically producing a pure form of penicillin at the beginning of the 1940s and in investigating its properties in more detail. Their efforts eventually led to a pharmaceutical that could be produced in larger quantities and which went on to save over 100,000 or so men during WWII and hundreds of millions since.
In 1945, the Nobel Prize in Physiology or Medicine was awarded jointly to Sir Alexander Fleming, Ernst Boris Chain and Sir Howard Walter Florey "for the discovery of penicillin and its curative effect in various infectious diseases"
Chain's children, wanting to share this momentous achievement among family members, approached Facsimile Editions to produce exact facsimile reproductions of the solid gold Nobel medallion, the exquisitely executed parchment certificates hand-bound into a green goatskin binder, Chain's moving Nobel Prize acceptance speech and the Kohn Foundation's booklet describing Chain's life published by Imperial College, London.
Medallion size: 67mm diameter
Binder and certificates size: 27 x 37 x 1.5 cm
Speech size: 22.5 x 36cm – 3 sheets
Booklet size 21 x 14.5 cm – 12pp
All above contained within a protective handmade solander box.
The Project
Reproducing these precious, treasured objects presented us with new challenges, as has nearly every project we have undertaken since our founding in 1980.
Nobel Medallion
The original medallion is solid gold and finely detailed. It was reproduced using the 6,000-year-old 'lost wax' process by craftsmen at a decades-old workshop in North London. Once cast, the brass medallion was gold-plated with 23.5 carat gold and finally polished to appear virtually indistinguishable from the original.
Nobel Prize certificates and folder
Scanned and printed by specialist printers in London onto archival acid-free paper, the certificates were bound in Milan, Italy into a hand-made folder covered in specially tanned goatskin custom-dyed to match the colour of the original. The boards of the 6mm thick folder have been hand-made to match the curved edges of the original. Once bound, the covers were embossed with Ernst Chain's monogram and logo. The inside borders were also embossed with gold designs.
Acceptance Speech
All that remains of Ernst Chain's acceptance speech are three sheets of carbon-copied typescript stained brown with age. They are, nonetheless, a moving testament to Chain and his colleagues' historic achievement which surely ranks in importance to mankind with Einstein's discoveries.
Ernst Chain Prize Booklet
Imperial College London awards the Kohn Foundation funded Ernst Chain Prize annually to "a career scientist who has made … a substantive contribution … to further understanding or management of human disease." The booklet describes Ernst Chain's life.
Journalist and broadcaster, John Wilson, speaks about Chain's Nobel Prize with Bonhams Specialist, Joseph Robson.
Ernst Chain's Nobel Prize medallion, reverse
Ernst Chain's Nobel Prize medallion, obverse
Ernst Chain's Nobel Prize Acceptance Speech
The Ernst Chain Prize booklet
To discuss this or any other project with us please just click below.
Other Custom Projects you may enjoy
Modern manuscript, goatskin marquetry, concertina binding, specially commissioned marbled paper. Edition of 67 copies. Bnei Brak, Israel
Modern manuscript, possibly the most ambitious facsimile ever created in a unique 1,000-piece goatskin marquetry binding. Edition of 67 copies. Bnei Brak, Israel